There are plenty of celebrities who have been photographed with their hands either covering or encircling one of their eyes, and are accused of being in the Illuminati as a result. However, it is almost impossible to decipher between which of these celebrities are the handlers and which are the handled. I have a theory that may help to uncover the meaning behind each of these hand symbols, and how to decipher between them. Here goes.
The Handlers:
Handlers are those celebrities who
willingly
push the Agenda of the Illuminati. They can be indentified by the "all-seeing eye" symbol. As handlers are often consistent with which eye they choose to "illuminate," I believe that a distinction can be made by observing which eye is favored. Though I have not been able to determine which is which, I believe that one eye indicates those who sympathize with the cause, and the other indicates those who agreed to push forth the agenda after being bribed
(Please note that these individuals push the Agenda to reap its spoils, rather than doing so out of fear.)
The "Handled"/ Victims
The Handled are those individuals who have been forced to push the Agenda. The individuals may have been opposed to the Illuminati from the start, or are former supporters who have finally had enough. Either way, these individuals are forced to cover one eye to represent that they are being oppressed; that they are the submissive.
Many of these celebrities have been brainwashed, and are known for their alter-egos and/or drug problems, which are a direct result of MK Ultra programming.
When brainwashing a victim, the entire brain is not tampered with. Doing so would destroy the individual's mind, rendering them useless. Rather, I believe a specific hemisphere of the brain is targeted, and altered. If the left hemisphere of the brain is tampered with, the left eye is covered. If the right hemisphere is tampered with, the right eye is covered.
FROM:
http://viewzone2.com/bicamx.html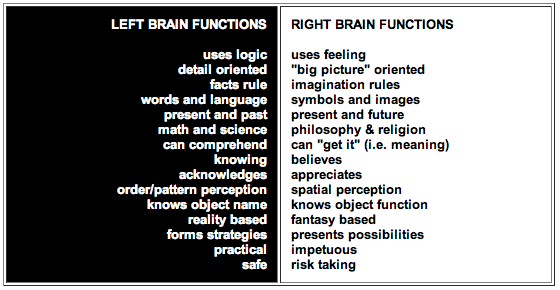 MK Ultra victims are viciously tortured, and when they attempt to escape within their minds, an alter-ego is put into place. Please note that many of those who have their right eye covered have referred to themselves as having alter-egos.
There are thousands of these pictures all over the Internet, way too many for me to post here. However, there is a website that has done a pretty good job of collecting of pictures of Illuminated and Covered Eye Symbols.
http://whale.to/b/all_seeing_eye_hand.html#A_
Some photos maybe written off as just someone winking or rubbing stuff out of their eye. However, it cannot be denied that the Illuminated eye symbol is everywhere in the celebrity community!
Those who use these symbols are usually very consistent with which eye is covered, and which remains illuminated.
If you have any other information/pictures/videos of these symbols, I encourage you to leave them in the comments of this thread.