Quote:
Originally Posted by
mannybash
Supposing everything on the country of any significance was controlled by one person?
Well , of course this is their plan ... And it's quite clear who this person is .
In armed forces , (UK and colonies) every soldier swears an oath of allegiance to the
Queen
...not parliament !
I... swear by Almighty God (do solemnly, and truly declare and affirm) that I will be faithful and bear true allegiance to Her Majesty Queen Elizabeth II, Her Heirs and Successors, and that I will, as in duty bound, honestly and faithfully defend Her Majesty, Her Heirs and Successors, in Person, Crown and Dignity
In the police every officer swears an oath to the
Queen
"I, [name], swear that I will faithfully and diligently serve Her (or His) Majesty [specify the name of the reigning Sovereign], Queen (or King) of New Zealand, her (or his) heirs and successors, without favour or affection, malice or ill-will
And every freemason swears the same loyalty...search "who is the head of freemasonry" ... you get the Duke of Kent ,
Grandson of King George V and Queen Mary.
Even Boy Scouts swear allegiance to the monarch .... "The Home Office refuses to say whether MI5 officers must swear fealty..."
The monarch can dissolve (close) parliaments in the UK, Canada , Australia etc whenever they like ...And the 'prime minister' is just that ... he
ministers
unto the monarch ...serves/waits on , the monarch...
But it aint that easy
I always think back to the Dunblane massacre....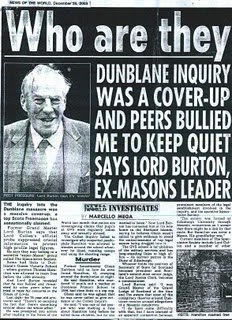 Lord Burton , one of the top masons in the country ...one of the aristocracy , blew the whistle and exposed the criminals ....
If they can't control one of their top people , they have no chance ... very few are totally corrupt... humans don't like being controlled .