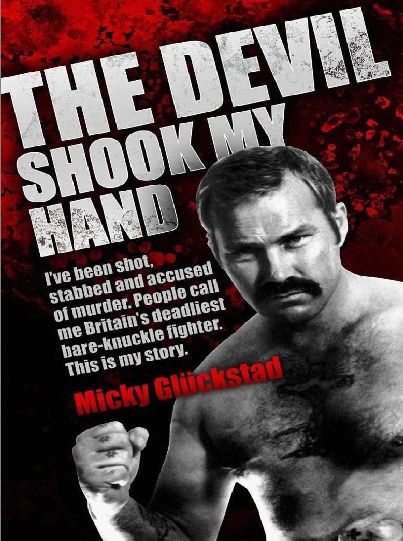 http://www.amazon.co.uk/Devil-Shook-...9526632&sr=1-1
THE DEVIL SHOOK MY HAND - MICKY GLUCKSTAD (John Blake Publishing) The biggest publisher of biographys in the UK.
This book was ghost written by PHONE HACK SCANDAL JOURNALIST "MATT NIXSON"
He however neglected on purpose i expect to include the 10 year sentence that Micky Gluckstad was sentenced too in 1990 for SEXUALLY ABUSING A CHILD FOR 3 YEARS!!
Here is the news story about him from 1990.
-------------
Top East End villain Micky Gluckstead has been exposed as a child molesting pervert. The self-confessed hard man, still carrying a bullet in his body following a gangland style shooting, now faces the wrath of fellow prisoners who despise sex offenders - the men they label 'nonces.'
Gluckstead, 41, was blasted outside the Norsemen Club in the East End's Barking Road in 1977 by Nicky Gerrard - the son of Kray henchman
Alfie Gerrard.
He survived the shooting for which Gerrard, murdered himself some
years after, was convicted and jailed. The two week trial had described how for three years Gluckstead, subjected a woman friend's little boy to sickening sex assaults, said Mr Brian Barker, prosecuting, at the Old Bailey.
The child was 'terrorised into submitting and keeping silent about
the appalling attacks by Gluckstead who said he would kill his
mother if he said anything.' And having witnessed his mum being beaten up on a number of occasions the helpless youngster could do nothing but comply. He finally broke down and told his headmaster that he was being abused after getting into trouble at school.
'The boy's school work had deteriorated and it was noted by the
teachers he had an unusually high sexual awareness for someone of his
age,' said Mr Barker. It was after being hauled before his head, following an incident in the school playground, that 'he suddenly disolved into tears' and revealed he was being abused by Gluckstead.
That night the boy ran away from home. He turned up at his grandmothers where he poured out his terrible story. A medical examination revealed terrible damage to the little boys anus 'consistent with intercourse having occurred over a long period of time,' said Mr Barker.
Gluckstead had protested his innocence from first to last insisting that he had 'never touched the boy who lived in a fantasy world.' But during his evidence via video link the child, aged just seven years when the assaults began, had told the court: 'I was scared of him. He used to beat my mum up and I was afraid he would kill her.'
Jailing Gluckstead, from Stratford, E. London for nine years today Thurs Judge Michael Coombe said: 'There is no need for me to enlarge upon the wickedness of these offences. 'Over a period of three years you buggered him, committed acts of indecency with him and then there was the last disgusting act - after making sure he was looking on, you allowed a dog to lick your private parts.
'I have no doubt having heard the evidence and seen you, that that boy was terrified of you. You deliberately terrorised him so he didn't reveal these matters until they had been going on for some three years.
'It's impossible to know what effect it will have on that boy. The courts regard sexual offences against young children as very serious.'
Gluckstead, 41, was found guilty of three charges of buggery, three indecent assaults and one offence of gross indecency between 1986 and 1989. It was revealed that both the boy and his mother have been given new identities and moved to a secret location 'following,' as one officer put it, 'very serious threats to the life of the child and his mother.'
Gluckstead a one time bare fisted knuckle fighter has a string of convictions comprising 31 offences of violence and dishonesty stretching back to 1961. He has none for sex offences. Giving evidence he had revealed his own long criminal record claiming that he was an East End 'hard man' - not a child molester.
After sentencing Gluckstead the judge turned to Det Sgt James Keeling of the Child Protection Team based at East Ham and commended
him for his handling of the case.
'This was a difficult and very painful case and my gratitude extends to Sgt Keeling who took the statements from the boy and was responsible for much of the investigation.
'I would like my commendation for the way he conducted this very delicate inquiry and most unpleasant matter,' said Judge Michael Coombe.
Minutes earlier the prosecution asked that five charges of assault occassioning actual bodily relating to alleged attacks by Gluckstead on the boy's mother be left on the court file and not proceeded with.
All occurred during the same time span that the child was molested by Gluckstead. He had been found guilty of the child sex abuse charges last
week, but sentence had been adjourned while the crown considered
whether to go ahead and try the contested assault charges.
And on Thursday Mr Barker said that although the alleged assault victim was prepared to testify 'she would prefer not to.' 'The crown have considered all of the circumstances and given the courts powers in the present case, given the age and time of these allegations and the most important factor that that lady has started a new life and is very anxious to put these matters behind her. 'Both she and her son have been given a secret identity outside of London.'
Mr David Cocks QC defending said his client who still maintained his innocence did not wish anything to be said in mitigation on his behalf.
-------------------------------
-------------------------------
Post from true crime author Bernard O'Mahoney confirming the ghost writers name on his forum yesterday.
Postby Bernie » Tue Sep 18, 2012 5:32 am
My views on anybody who sexually abuses a child are well documented, they are deplorable and should not be at liberty to mix with right minded people. It matters not what their `job` or role in life is, Policeman, benefit claimant or `East End hard man` it is the crimes that they have committed and think about committing that I loathe. I have refused to discuss individual cases lets say with Danny Woollard who believes Gluckstead is innocent and my friend Matt Nixson who wrote his book because I would need to read the evidence before `forgiving` somebody if innocent and as Gluckstead has chosen to not even publicly comment on the crime he stands in my view - rightfully guilty.
-------------------------------
Deceased boxer ROY "pretty boy" SHAW from an interview regarding the same man .
TC - Who was next?
RS - Next was an Irishman called 'Mad Dog' Mullins, I finished him in the first round. Then I beat a mongrel named Mickey Gluxted in three rounds. I have been told this mongrel is now gobbing off about the fight being fixed blah, blah. Well I would gladly fight him again right now! He is a scumbag and scum should keep their filthy mouths shut! If I knew then what I know now about what he is I would have killed him stone dead! and then Terry Hollingsworth, the A.B.A. champion was taken care of in round one.
-------------------------------
FOR THE RECORD TO AVOID ANY CONFUSION HE IS 100% THE SAME PERSON DESPITE ALTERING HIS SIR-NAME SPELLING SLIGHTLY. GLUCKSTEAD/GLUXTED/GLUCKSTAD.
23 of 25 people found the following review helpful
1.0 out of 5 stars Selective Memory
Funny how Mickey Gluckstad forgot to mention how he was sentenced to prison in 1990 on 3 counts: buggery, three indecent assaults and one offence of gross indecency of a boy which lasted over 3 years (from when the boy was aged 7 until he was 10).
This man is no loveable rogue, just a vile pervert.
This review is from: The Devil Shook My Hand - I've Been Shot, Stabbed and Accused of Murder. People Call Me Britain's Deadliest Bare-Knuckle Fighter. This is My Story (Kindle Edition)
I have read many books about fighting, especially bare knuckle or unlicensed boxing. I have never heard of this guy, That of course doesn't mean he isn't real but to say he has beat Lenny and Roy is a big statement when there is no proof anywhere of him fighting them. I have read books by Dave Courtney, Bartley Gorman, Lenny Mclean, Roy shaw, Frankie Frasier and the Krays to name just a few and this guy is not mentioned in any of them. I have searched for him on the internet and there is nothing, nothing on youtube either. This guy is fake and has made a lot of this stuff up. STAY AWAY.
Update 17-08-13
I thought I would research this guy a bit more and have come across some very bad info, micky glucksted (he actually has several names) is a known Paedophile and has served a 10 year prison sentence for molesting a 7 year old boy for 3 years. HE DIDN'T PUT THAT IN HIS BOOK
Please do not buy this book and put money in his pocket.
This review is from: The Devil Shook My Hand: I've Been Shot, Stabbed and Accused of Murder. People Call Me Britain's Deadliest Bare-knuckle Fighter. This is My Story. (Paperback)
This pervert molested a boy for three years! He threatened to kill the boys mum if he ever told anyone. The lad finally broke down and told his headmaster when he was in trouble at school. 10 years for ruining someones life, and now they are selling a book about how hard he was. What a sick world we live in.
Help other customers find the most helpful reviews
Was this review helpful to you? Yes No
Report abuse | Permalink
Comment Comment
This review is from: The Devil Shook My Hand - I've Been Shot, Stabbed and Accused of Murder. People Call Me Britain's Deadliest Bare-Knuckle Fighter. This is My Story (Kindle Edition)
When purchasing books on kindle I always have a quick look on the Internet for pictures etc of the people I read about. I was horrified to see that Gluckstad is a convicted paedophile convicted of some horrific sexual acts against a young boy. I immediately deleted this book from my kindle and am furious that Amazon are selling this book. What's next Amazon, deals with Gary Glitter and Saville?
Shame on you Amazon, this book should be removed
Help other customers find the most helpful reviews
Was this review helpful to you? Yes No
-----------------------------
UPDATE.
This is the ghost writer who penned the above book.
http://en.wikipedia.org/wiki/Matt_Nixson
https://twitter.com/MattNixson
http://www.pressgazette.co.uk/node/49693
http://www.pressgazette.co.uk/victor...acking-dispute
http://norlink.norfolk.gov.uk/02_Cat...cn=NL00142006&
The Devil shook my hand, [electronic resource] / Micky Glückstad with Matt Nixson
No Cover Image
Reserve Now
Add To Basket
Control Number NL00142006
Codes 120417s2012 en f kK 0000 aeng e
ISBN/Format Adobe EPUB eBook)
Class 796.8309
Author Glückstad, Micky
Title The Devil shook my hand, [electronic resource] / Micky Glückstad with Matt Nixson
Download Link
http://digitallibrary.norfolk.gov.uk...B-39840036AF7D
Publisher London, John Blake, 2012
Physical Description xvi, 256 p., [8] p. of plates, ill., ports.
Notes Electronic reproduction: Cleveland, Ohio: Overdrive, 2013?
Description based on print version record.
Summary Micky Glückstad has been shot, stabbed and accused of murder. People call him Britain's deadliest bare-knuckle fighter. This is his story.
Other versions Print version 9781857827996
File size Electronic data (file size: 2121 KB)
System requirements System requirements: Adobe Digital Editions
Mode of access: World Wide Web
Person as subject Glückstad, Micky
Library of Congress Boxers (Sports), Great Britain, Biography
Swindlers and swindling, Great Britain, Biography
Added Author Nixson, Matt